North Lake Tahoe Weddings - South Lake Tahoe Weddings - Lake Tahoe Wedding Minister - Lake Tahoe Elopement - mobile wedding - Lake Tahoe Vow Renewals - Lake Tahoe Wedding License Lake Tahoe Weddings - Lake Tahoe Bilingual Wedding Ceremony - Lake Tahoe Commitment Ceremonies - Tahoe Gay Weddings - Tahoe Lesbian Weddings - Tahoe Gay and Lesbian Weddings Lake Tahoe Beach Weddings - Lake Tahoe Wedding Packages - Lake Tahoe Wedding Chapels North Lake Tahoe Weddings - South Lake Tahoe Weddings - Lake Tahoe Wedding Minister - Lake Tahoe Elopement - Lake Tahoe Vow Renewals - Lake Tahoe Wedding License Lake Tahoe Weddings - Lake Tahoe Bilingual Wedding Ceremony - Lake Tahoe Commitment Ceremonies - Lake Tahoe Beach Weddings - Lake Tahoe Wedding Packages - Lake Tahoe Wedding Chapels El Dorado Hills - Sacramento - San Diego - Los Angeles - Southern California - San Francisco - Bay Area - San Jose - Palo Alto - Walnut Creek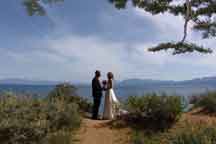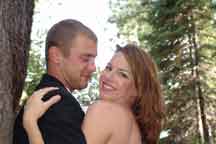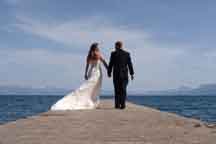 530-412-5436
So glad you found my website...
I love providing Wedding and Vow Renewal Ceremonies and being a part of new beginnings.
I hope that this nice and "priced so good" Lake Tahoe Weddings Website offers exactly what you are looking for.
Do you have a location, or can I make some suggestions?
Let's talk... 530-412-5436
Ann Poole, Lake Tahoe Wedding Minister

On-Site Wedding Licenses, Affordable Photography and Videography
You are going to LOVE my prices!

Though I specialize in small intimate weddings, I also perform many Grand Destination Weddings and Vow Renewals.
No Extra Charges for last minute weddings/elopements. Available 7 days a week. Wedding Licenses Available Onsite.
No Witnesses Needed. Please Call Ahead to make sure the time you want is available.
And dress as you wish... from jeans to tux and gown. This is Tahoe... where anything is "Just Right".

Pricing

Choose a "Simple Wedding Ceremony"... $350
or, a Wedding Ceremony Written "Just for You"... $425

* * * Save B*I*G when you book today through 08/10/2015 for a Wedding on ANY DATE * * *

"Simple Wedding" Ceremony now $295


So simple... my Religious and Non-religious Ceremonies have been carefully written to be romantic and meaningful.
I have over 20 years of writing experience and love providing words to make your day special.
I am a mobile wedding minister... which simply means that I marry people in a variety of great places.
My favorite location for small romantic weddings is on a cliff, with a panoramic view of the lake.
Wedding Location Possibilities and Photo Samples
"Just For You Wedding" now $375
A very personalized Ceremony. YOU help design your wedding words.


I write a ceremony just for the two of you in an outline format giving you several choices to choose from;
you can add or change any wording; telling your love story or ethnic traditions.
Together we can create a ceremony that reflects the love and friendship that you are bringing into your marriage.
Ask about Resort/Special Venue location wedding pricing which includes rehearsals.
Affordable "I Do!" Wedding Ceremony - just $165 when lodging at Pooles Guesthouse
Or $215 without lodging
Scenic views of Squaw Valley USA!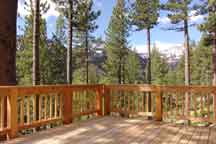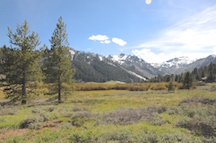 Charming, intimate and private
$165 Wedding Ceremony when lodging at Pooles Guesthouse with your wedding on our private deck or
in The Meadows of World Famous Squaw Valley USA for any couple staying two or more consecutive nights.
Available Sunday through Thursday.
See Poole's Guesthouse for details on lodging and additional rooms for your family and guests.

$215 Wedding Ceremony without lodging on The Deck or in the Meadows of Squaw Valley.
Available Sunday through Thursday and limited to about 10 people on The Deck or about 20 people in The Meadows.

If you bring a camera or phone with picture taking ability, I am glad to take a few complimentary pictures for you.
Delightful mountain views... great price... and you get the following wedding gifts from me!

~ ~ ~ ~ ~ ~ ~ ~ ~ ~ ~ ~ ~ ~ ~ ~

Wedding Gifts for Every Couple that I marry...

M-m-m! A Decadent Rich Chocolate or Traditional White Lace Wedding Cake for Two (a yummy Honeymoon Night Treat)

A Gift Bag filled with Glass Champagne Flutes for your choice of Champagne or Sparkling Apple Cider for Two.
Flutes are decorated with Bead and Crystal Charms

A Decorative Certificate of Marriage or Vow Renewal; Suitable for Framing or Scrapbooking

~ ~ ~ ~ ~ ~ ~ ~ ~ ~ ~ ~ ~ ~ ~ ~

Affordable Wedding Photography

I love taking pictures and use a high resolution Professional Nikon Digital Camera System.

Photo Shoot Pricing with full printing rights:
About One Hour: $235


Photos are given basic editing and your CD is mailed within about one week of your ceremony.

PLUS, as a "Thank You" for ordering my Photo Shoot
I will build you a FREE Wedding Photo App with about 20 of your Wedding Pictures.
It works on your Apple or PC computer, iPhone, iPad, iPod and most Android's.

Unlimited Free Downloads!
EVERY time you look at your Phone's Home Screen,
you can see YOUR app with YOUR Wedding Picture on it.
Share your FREE CUSTOM APP with EVERYONE!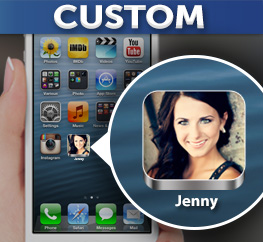 CLICK to view my Facebook Page
to see some of my most recent weddings. please "LIKE" my page!!

~ ~ ~ ~ ~ ~ ~ ~ ~ ~ ~ ~ ~ ~ ~ ~
Videography
Unedited, to capture your entire ceremony;
the tender words, your promises to each other and that joyful first kiss as a married couple.
This is an amazing treasure to share with each other as time goes by, and now with family, and friends.

Video provided on a SD Drive.
If you don't have a slot for SD drives, I can provide a USB Adapter for $15.

Video: $145
Additional copies: $40 each

~ ~ ~ ~ ~ ~ ~ ~ ~ ~ ~ ~ ~ ~ ~ ~
So Easy! I Can Provide Your Wedding License Too!

Wedding license can be purchased on-site $60 (no waiting in line at a county office!)
Authorized by the County Recorder's Office to issue your license on site; no witnesses required , no notary fees, no waiting in line and no blood tests.
Then I file it for you... it's just that easy.

Need to expedite getting a copy of your license?
I can send it by Priority Mail to the Placer County Recorders Office and then arrange to have the Certified copy of your Marriage License sent FedEx to you ($60)

~ ~ ~ ~ ~ ~ ~ ~ ~ ~ ~ ~ ~ ~ ~ ~
Bilingual Wedding Ceremonies
With a "Just For You Wedding Ceremony" I can provide a bilingual wedding ceremony; provided in English as well as almost any language.
I have also enjoyed providing ceremonies for couples with sight and hearing loss and worked with ASL interpreters.

~ ~ ~ ~ ~ ~ ~ ~ ~ ~ ~ ~ ~ ~ ~ ~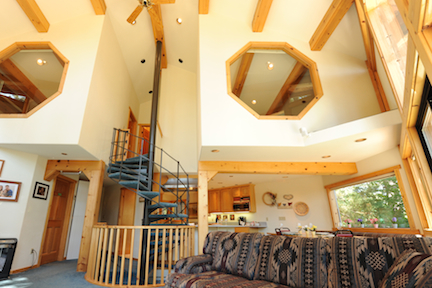 Recommending My Favorite Lodging: Poole's Guesthouse
Overlooks the mountains and tall Ponderosa Pine trees of Squaw Valley USA.
Scenic Bed and Breakfast style lodging with gourmet kitchen where you can cook any meals, laundry, washer/dryer and DSL.
You and/or your guests can rent one, two or three bedrooms; $115 - $135 per night per guestroom plus tax.
With a two or more night stay, you reduce the price of the wedding by $50
for a "Just for You Wedding" and $25 for a "Simple Wedding".

Lake Tahoe Vacation Rental Information

Specializing in Rehearsal Dinner Parties and Wedding Night Dinners
Dining at Graham's, you can have a cozy and charming fireplace setting for your wedding.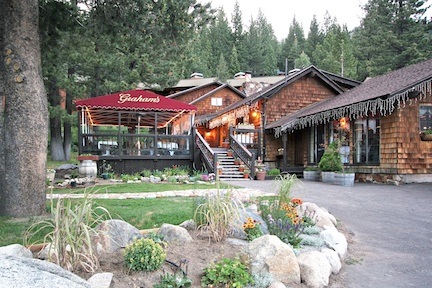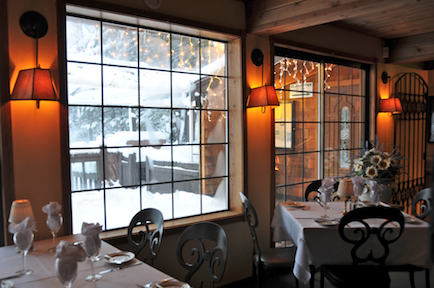 EDITOR'S CHOICE for Lake Tahoe Wedding Ministers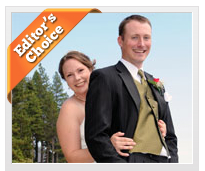 Wa-hooo! I am SO excited and honored!
Ann Poole Weddings is now featured as the
' EDITOR'S CHOICE Lake Tahoe Wedding Minister '
TahoesBest.com




(530) 412-5436 (Direct Line/Cell Phone)
When leaving a message, please include area code

About Ann Poole Weddings | Wedding Locations and Photography Samples | A Charming Lodging | Thank You's | Contact